Christmas Fund: Disabled man had to sleep on floor after bedbug infestation
"I lost everything," Joseph said. "I had to throw out my mattress, my clothes, the curtains, everything. My whole life is pretty much sealed in boxes."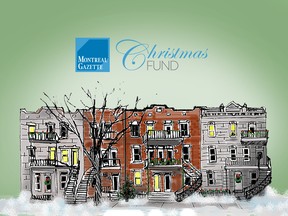 Article content
Joseph likes to say the Gazette Christmas Fund lifted him up — literally.
Article content
Joseph has lived in the same apartment for eight years, and while there have always been slight issues here and there with the place, it's home. By his own admission, he rarely leaves his room, so the stability of having one place to stay has been important in his life. But earlier this year, there was a bedbug infestation and he had to throw everything out.
"I lost everything," Joseph said. "I had to throw out my mattress, my clothes, the curtains, everything. My whole life is pretty much sealed in boxes. I slept on the floor."
Some people around him suggested he leave, but it's not as simple as it sounds to find a new home that's close to the things he needs.
Due to mental illness, he lives on disability and has relied on the kindness of organizations and his local church. Thanks to the Gazette Christmas Fund, Joseph said he was able to purchase a modest mattress. While the mattress lifts him up only a foot or so, he said that first night's sleep felt like he was 10 feet off the ground.
Article content
"It gave me wings," he said.
Joseph is a music obsessive who listens to everything from Michael Jackson to 2Pac, but he holds a special place in his heart for the music of Eminem. As someone who doesn't leave his home for just about anything aside from church and psychiatric care, music is often all he has. There's one Eminem song in particular that has helped him navigate through this difficult year: Not Afraid.
"Everyone wanted me to leave, but I decided to stay in my room," he said. "I've been down before, but not this time. This time I'm standing up for myself."
How to help
This article is representative of the people your donations are helping. Because of resource limitations and privacy restrictions, the Montreal Gazette cannot accept non-monetary contributions. Donations to the Christmas Fund can be made exclusively online at www.christmasfund.com. Please direct all inquiries to christmasfundinquiries@postmedia.com.